Posts Tagged 'workshops'
SUMMER IS HERE – TIME FOR NEW WORKSHOPS !
ASK Summer School is an initiative to gather students, architects and artists for a two-week
learning-working session. During the workshop we will be facing the aspect of modularity in
architectural design using the most contemporary design tools. The module we will be working
with is LED tube light. The goal is to use the tube light both as a structural and responsive
element to create a working structure.
PARTICIPANTS
Everybody who wants to learn about new tools in design process or enhance their knowledge
and apply it in real project. The program is mainly aimed at students of Architecture, Fine Art,
Design, etc., but everybody interested in architecture, parametric design, fabrication and
interactive installations is welcome. The number of participants is limited.
KNOWLEDGE REQUIRED
Knowledge of architectural or artistic installation design along with basic knowledge of any 3d
modeling software is required.
KNOWLEDGE GAINED
Every participant will be introduced to parametric design tools, fabrication technology and
open-source electronics prototyping. The software covered (in different levels) is: McNeel's
Rhinoceros 3d, Grasshopper 3d and Arduino.
CERTIFICATION
Participants will receive an official certificate for successful completion of the workshop
acknowledging the software use and digital fabrication experience.
ORGANIZATION
ASK (Architecture for Society of Knowledge) is a master program organized by the Architecture
and Urbanism department at Warsaw University of Technology. It's dedicated to those who wish
to extend their practical understanding of contemporary architecture and urban planning. The
program addresses digital media in design, prototyping with computer controlled machines,
distributed design collaboration, and agendas for sustainable, intelligent building.
DATES
1.07.2014 Program announcement
8.08.2014 Application deadline
18.08.2014 Beginning of the workshop
29.08.2014 End of the workshop
All program avaible here: curriculum
A special fast-paced and condensed parametric workshop will be held in Poznań during Arena Design Fair , which will run from 5 to 8th of march 2013. The fair gathers all professionals and institutions related to design industry, including schools, universities, ,design offices and furniture makers.
The workshop run by Jawor Design Studio will be focused on parametric and generative design techniques, and will bring participants closer to environments such as Rhino Grasshopper, Generative Components and Processing. We will be showing examples of algorithmically generated sculptures that will then be live-3d-printed on ZMorph 3d printers. You can find us in building 5, near to exit number 4. We're starting at 12:00 on Thursday, the workshop will take 4 hours. If you want to participate, please fill this form.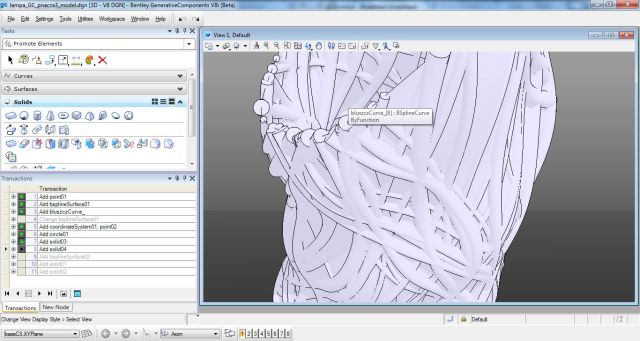 a model printed on ZMorph 3d printer